Sale!
Description
Bundle of 8 Includes: 4 Glass Dessert Bowls and 4 Dessert Spoons. Take a trip down memory lane with this classic diner style glass dessert set. These sets are perfect for milkshakes, malts, sundaes, parfaits, sodas, banana splits and root beer floats to enjoy with friends or to enjoy at home alone. Made in the USA, these nostalgic glass dessert bowls can be easily cleaned in the dishwasher.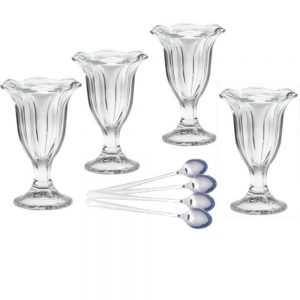 Bundle of 8 Includes: 4 Sundae Glasses and 4 Dessert Spoons

These sundae glasses are perfect for every flavor of ice cream sundaes!

Fabricated from thick and durable crystal, it has a tulip shape design with rippled panel cut sides reminiscent of classic diners. Holds 5.5 oz.

It has a heavy footed base that helps prevent tipping and spilling. Dishwasher safe; made in the USA.

Stainless Steel long handled Dessert Spoons complete this set and measure 7.75 inches in length.