Sale!
$29.97
Porcelain White Creamer and Sugar Set
Out of stock
Description
Bundle of: White Porcelain Sugar Bowl with Lid, 8 oz Creamer Dispenser Pitcher and a Sweetener Sugar Packet Holder.
Beautiful whitewares are versatile. They go with any décor. This white porcelain sugar and creamer set will match what's on the table and what you're having for breakfast, lunch, dinner or a snack plus, it's also extremely durable. It's made of high quality Brazilian porcelain. This set will perfectly and beautifully sit alongside almost any spread—from a thanksgiving feast to a crumpet and tea breakfast.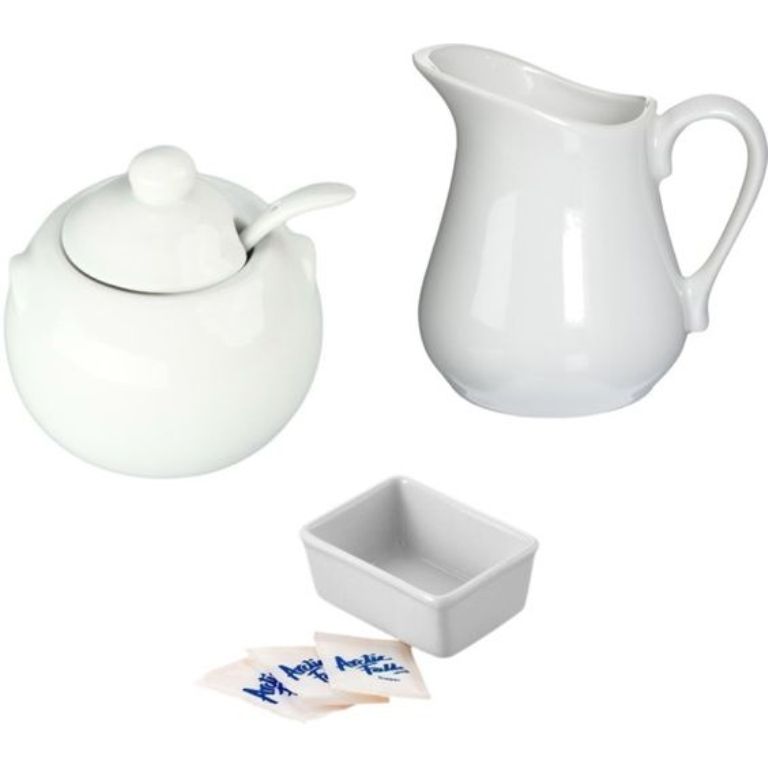 Set Includes: Creamer Dispenser Pitcher, Sugar Bowl with Lid & Spoon and Sugar Packets Holder
Glazed white 8 oz small ceramic pitcher is an elegant way to serve cream for coffee or tea.
White Porcelain 8 oz covered sugar bowl with a spoon is perfect for everyday use or special occasions.

Use your porcelain sugar packet holder to keep sugar packets and sweeteners organized and handy.able.

All Porcelain pieces are oven, broiler, microwave, freezer and dishwasher safe.